About us
Jean hails from New Orleans, Louisiana. She joined the Office of International Programs in 1991 (first as a student worker) and is a graduate of the University of Mississippi, having earned her Bachelor's degree in Business Administration.
Jean serves as the Principal Designated School Official (PDSO) and Responsible Officer (RO) and has been a t

rainer in the field of international student, faculty and staff advising at the regional and national levels with the Association of International Educators' Trainer Corps (NAFSA), the

International Student and Scholar Services representative for NAFSA Region VII, a board member of StudyMississippi, and the International Student Services Representative for the Mississippi Association of International Educators (MAIE)

For fun? Jean relishes her time with family, tending her organic garden, baking and making vegetarian food.

On the "bucket list"? Learn how to play the guitar.
Brandon S. McLeod — Assistant Director
Brandon first joined the University of Mississippi in November. He serves as Designated School Official (DSO) and Alternate Responsible Officer (ARO).
Since 2018, he has been a member of NAFSA Trainer Corps and a Trainer Corps Ambassador since 2020. He is authorized to lead NAFSA CEP trainings in Filing Academic H-1Bs, J-1 Advising Beginner and Intermediate, F-1 Student Advising for Beginners, Assessment and Evaluation for International Educators, and Intercultural Communication in Practice. He is a regular presenter at NAFSA conferences, a NAFSA Trainer Corps Ambassador, and the elected MAIE/Study Mississippi Student Services Representative.
He is a native of Mobile, Alabama. He graduated from Spring Hill College with his B.A. in English with minors in Philosophy and French (2007), from the University of South Alabama with his M.A. in English (2009), and from The University of Southern Mississippi with his Graduate Certificate in TESOL (2015) and Master of Arts in Teaching Languages in TESOL (2016). Currently, he is an ABD Ph.D. candidate in Higher Education at the University of Mississippi with a graduate minor in Applied Statistics. His research interests include international and comparative higher education, instructional technology and online learning, and widening participation.
Before joining UM, Brandon taught English to speakers of other languages at the University of South Alabama, the University of North Carolina Charlotte, and in Japan. He has taught students from over 55 different countries. He loves working with and learning from the international community and is always looking for opportunities to promote and engage in internationalism.
Oana Najjar – International Faculty and Scholar Advisor
Oana (pronounced Wa-nah) is originally from Iasi, Romania. She lived in Belgium for an extended period of time before moving, in 2004, to the US. She has earned degrees in 3 different educational systems: Eastern European (Romania), Western European (Belgium) and US. During her undergraduate and graduate studies, she has traveled across multiple destinations in Europe and Middle East.
She joined the office of International Student and Scholar Services in July 2021, after 9+ years spent at another entity at the University of Mississippi.
She assists scholars, UM staff and faculty members with federal regulatory compliance and advisory services related to employment and relocation to the USA. She serves as Designated School Official (DSO) and Alternate Responsible Officer (ARO)  with Homeland Security and Department of State. She is an advocate for the university international community and assists with educational and social programs in order to facilitate appropriate cultural adjustments for the UM international groups.
For fun? Traveling with her family, gardening, biking and spending time outdoors.
Bucket list: Be among the audience for the Vienna Philharmonic New Year's Concert.
Kay Tyler — International Admissions
Kay grew up in Conway, Arkansas and joined the Office of International Programs more than 30 years ago. She is a graduate of Hendrix College where she earned her Bachelor of Arts Degree in Education.
Kay's expertise at the Office of International Programs lies in the assessment of foreign academic credentials to their U.S. equivalence, and in assisting international students through the application processes and procedures.
For fun? Playing bridge, baking bread, and spending time with her five grandchildren.
On the "bucket list"? Meet with a student from every country in the world!
Donna Chappell — International Admissions Coordinator
Donna is a graduate of The University of Mississippi, and earned her Bachelor of Business Administration degree in Management Information Systems in 1991.
Donna joined the staff of International Programs in August of 2005, bringing 14 years of university IT experience with her!

For fun? Donna enjoys international cuisines, including Vietnamese lemongrass chicken and spring rolls; Chinese dim sum, and a variety of dishes from India.

On the "bucket list"? Spend more time with her whole family, including her two wonderful daughters and three grandchildren.
Christy Bray Jones — Administrative Coordinator I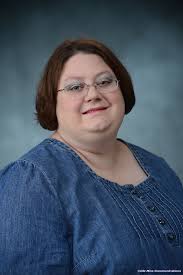 Christy is a native of Oxford, Mississippi. She joined the Office of International programs in 2015, bringing five years of Admissions experience.

Christy graduated in 1998 from The University of Mississippi earning her Bachelor of Arts degree in Anthropology with a minor in History.
For fun? Christy loves spending time with her family and friends, travel, cooking/baking and photography.
On the "bucket list"? Christy would like to travel the world.